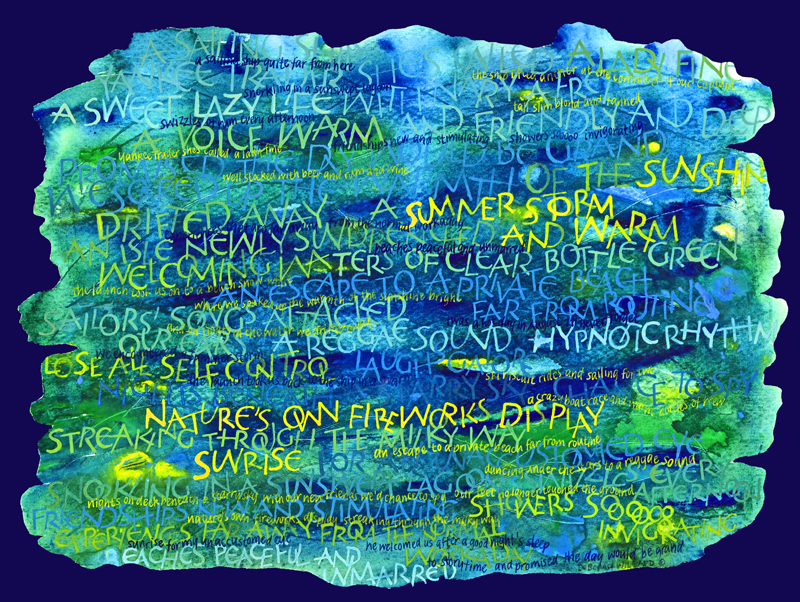 Title:  "Windjammer Cruise"
Artist:  Deborah Willard
Medium:  Gouache on handmade paper
Approximate size unframed is 14×11 inches.
The text is taken from a poem I wrote at the end of a wonderful cruise around the Bahamas Out-Islands aboard one of the Tall Ships of Windjammer Cruise Line. I created the art in a workshop taught by Thomas Ingmire. The page consists of layer upon layer upon layer of phrases from my Windjammer poem.
Lines are written in different shades of blue and green and with different pen nibs, undulating like the clear waters of the Caribbean Sea. Bright yellow is used here and there, like sunlight reflecting on the water.
The handmade paper has a beautiful deckled edge, so the pieces was floated on dark blue matboard and then framed. My mother loved it and bought it, and it now hangs in her dining room area at home.
This piece is available as an inkjet print in a 10×8 format, printed with an HP printer on fine art archival inkjet paper. Colors are brilliant and I've been impressed with their lightfastness.
To order a print, please contact the artist via email at debwillard4050@gmail.com, or call 336-306-4050 (cell).